LISTEN TO THESE TUNES!
Radiate / My Loves
Leah Simmons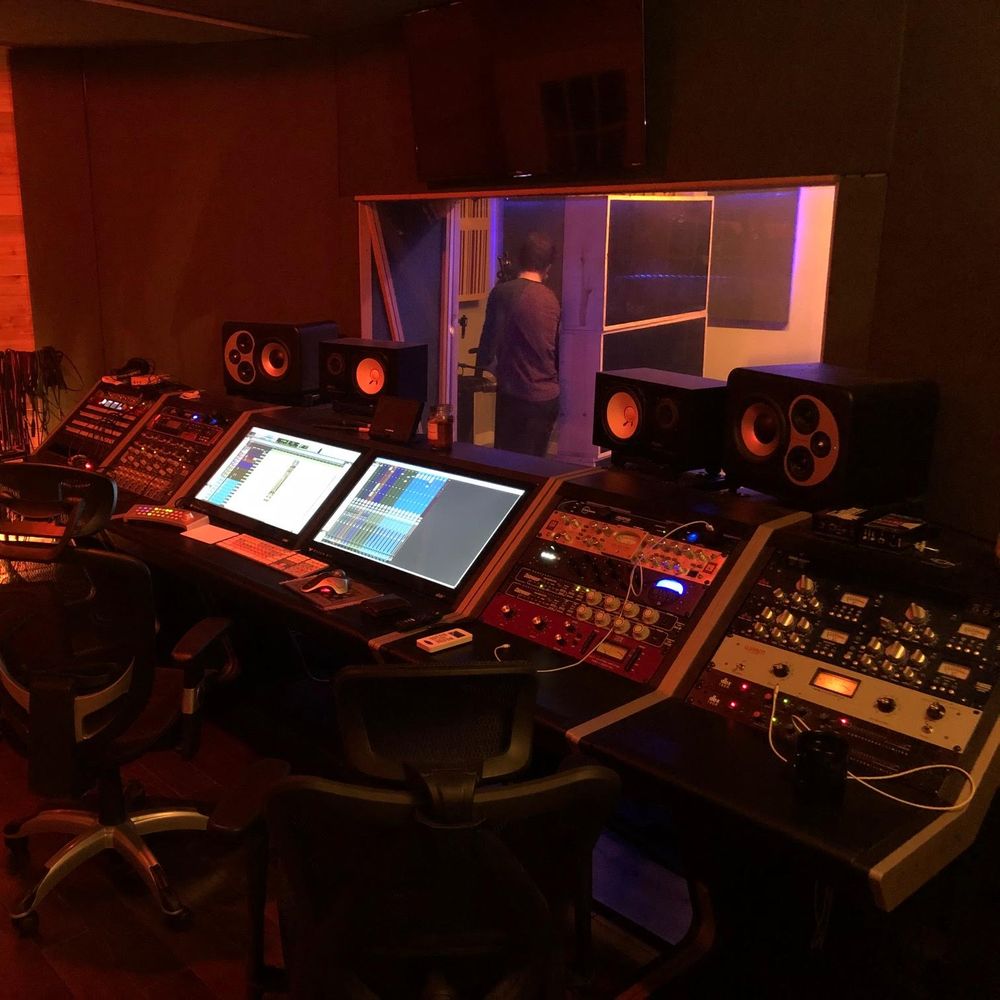 2020 Studio Journal
I laid down the tracks for my debut album in February 2020, right before the world shut down for a year. I flew from Florida to Maryland to record with Nate Lanzino- one my good friends and an excellent audio engineer and producer. We recorded at Wright Way Studios in Baltimore, MD for four days straight, stopping only to eat and sleep.
 
Day one was all about laying down the acoustic guitar and vocal tracks. I was pretty damn nervous because I wanted everything to be perfect. We spent the first hour or two setting up our space, lighting a cinnamon candle that filled the room with warmth, adjusting the lights to fit our vibe and making sure we had a pot of coffee on lock in the kitchen down the hall. When we dove into recording, I had thoughts of not being good enough and began comparing myself to other musicians. I struggled playing songs on the guitar that I wrote and had played hundreds of times before. So, my good bud Nate came to the rescue and laid down the guitar track for Rapidly Rising. Once I recorded the vocals for Rapidly Rising, ate a few snacks, and got my confidence back, we recorded guitar & vocals for My Moon, Totally Fine, Follow Through and Just a Dream. It was close to midnight when we recorded the vocals for Just a Dream. I was exhausted, my voice was tired, we took two takes and got exactly what we needed. It was perfect. A solid start to what would become a whirlwind of a couple days.
 
Day two began with excitement- it was the day we would record drums and bass! Having my acoustic songs come to life with a full band was an absolute marvel. I simply explained to the drummer, Chris Pierorazio, and bassist, Jay A Turner, the vibe of each song and let them do their thing. Chris even whipped out the bongos and other percussion instruments for the second verse on Totally Fine which ended up being one of my favorite parts of the album. In just a few hours, we had five songs under our belt. It was all coming together.

Day three was a whole lot of fine tuning, we recorded more vocal layers and I tried my hand at singing the harmonies that Nate demonstrated for me on the piano. We were then joined by a local musician, Leela Dawson, who inspired me to record another song- only this time using piano as the backbone instead of acoustic guitar. That is how Far Out came to be. When we finished up with Far out, Nate and I were eager to see if we could squeeze in a few more songs. Interlude came next. It was the newest song I had written, with the help of my friend, Jake Bauman. Short, sweet, simple. It was getting late in the studio, but we were caffeinated, so we laid down Interlude and thought why not do one more song? Set Your Mind was about to go down. I wanted an old, authentic, acoustic sound for the song, so Nate ran across the studio and found old-as-dirt microphones and amps and we got started. I sang and played guitar at the same time and we recorded a couple takes. The song turned out scratchy and raw just how I imagined. We had one more studio day.
 
Day four gifted us with Gingerwolf. The instant he played the intro of Just a Dream on the lap steel guitar, I was in awe. The emotion in this album was so beautifully enhanced because of the lap steel. It was a creative force that took over the studio. I wanted more ambient sounds, I asked Nate to play melodies and solos on guitar and had Gingerwolf sneak the lap steel in wherever it made sense. We stayed up late fine-tuning things and celebrated the final session with takeout from my favorite pizzeria owned by my best friend's family. Shout out to Capri Pizza for fueling this album.
 
We were lucky enough to spend two hours the next morning playing through every song and making sure all the pieces were there. I think I will always want to re-do a vocal track, but we truly had what we needed. We closed-up shop and I flew home that afternoon. I saw someone wearing a face mask for the first time at the airport. COVID was coming to America.
 
It was in some ways, a gift, to have the world shut down while editing the album. Nate and I spoke every day, sending notes back and forth until the songs were in their final forms. Nate reached out to Erin Snedecor, a cellist and composer, who wrote cello and violin parts for Far Out and Just a Dream. She and violist, Kimia Hesabi, recorded the parts remotely. Nate added a lot of other instrumentation during this time as well. I remained excited, knowing there was a time in which the world was going to have access to these songs.

Here I am writing this a year later, the album has been out for a few months and is well received. I look forward to recording the rest of my original material soon. Things I will remember for my next studio session- snacks are of real importance, trusting other musicians inclinations will yield wonderful results, vocal zone is a singer's best friend and a cup of throat coat tea at the end of a day is like a warm hug.